Join us on Race day as we celebrate your survivorship!
Survivor Race packets will include the following:
Please note that due to space restrictions, survivors are only permitted to bring one guest with them into the survivor tent.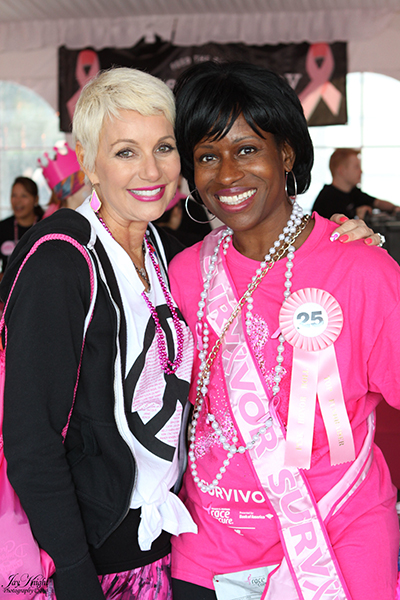 Survivor Breakfast
Breakfast will be served in the survivor tent starting at 6:30 AM.

You must wear your pink 2016 Race bib for entrance into the tent.

If you are a Pink Honor Roll member, you will still need your survivor bib for entry.

All survivors are allowed to bring ONE GUEST into the survivor tent. Guests must wear the pink wristband included in the packet for entry.
Joanie Hatcher Award

Every year in honor of his wife's legacy, Jim Hatcher awards the first survivor to cross the finish line with the Joanie Hatcher Award. Joanie initiated hosting a survivor area at the Race for the Cure series back in 1994.
Learn more about the Jim and Joanie Hatcher Charitable Trust.
Survivor Numbers
Proudly show the number of years you have been a survivor by displaying silver numbers on your survivor race bib. You can pick up your numbers at the registration table by the Volunteer Tent or at the Survivor tent.
(Regrettably, we are not able to provide pink hats this year. The 2016 Race series does not have a National Survivor Sponsor, who provided the hats at no cost and we no longer have any survivor hats left in stock at our office from prior Races to distribute. If you are a returning survivor, we encourage you to wear your hat from prior years.)
Survivor March
Please return to the survivor tent by 9:15 AM to line up for the televised survivor march starting at 9:45 AM. This is an exclusive honor for our survivors and we ask that your guests not participate in the march.